The Arizona College Consortium Virtual College Fair Events

The Virtual College Fair is FREE and Open to View and Browse the Entire 20/21 Academic School Year. Additionally, we have scheduled 3 Live Fair Dates Below Which Includes Additional Features such as: Live Chat from Colleges, Live Spotlight Presentations & College Specific Live Presentations. Visiting 3 or more booths on the Live Fair Dates Below Will Automatically enter you into a raffle for a $500 Tuition Scholarship!

How do I Participate?
Step 1 Click on the following link or copy and paste into your browser:
https://virtual.gotocollegefairs.com/azccvirtualfair
Step 2 Click on Step 1 to register for the fair(s)

Step 3 Click on Step 2 to enter into the fair(s)

Step 4 Click on Visit Colleges

Step 5 Click on the Central Arizona College Virtual Booth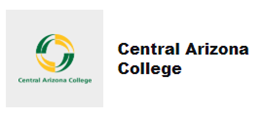 Step 6 Browse the Central Arizona College Booth – Open the entire 20/21 academic school year
View attachments

View the Live presentations Schedule

Watch Videos

….and connect to other helpful resources to assist on your path to becoming a student at Central Arizona College
Step 7 Visit the "Live" Fair Dates (listed above) to be able to chat live with CAC Representatives and View Live CAC Presentations.
Presentations: To view a scheduled CAC presentation just follow the steps above, click on the CAC Booth then click on the "Presentation" button to access the scheduled event.
We look forward to seeing you at the Central Arizona College Virtual Fair Booth!
Register Today!